Sign up to receive future issues of this newsletter  – select Shared Site Learning Network (Quarterly Alerts and Information on Resources and Training)
This issue of the Intergenerational Shared Site Learning Network newsletter focuses on the arts as a tool for fostering cross-age relationships and promoting well-being. Intergenerational art-making is an effective way to break down ageist stereotypes, foster empathy and understanding, and combat loneliness. The arts transcend generational divides and provide an opportunity to find common ground.  Engaging generations in co-creating and co-learning — through theater, music, dance, and other art forms — promotes social inclusion and builds community. We hope the programs highlighted below inspire you to incorporate creative arts experiences into your work.
Register Today – Intergenerational Arts Webinar
Join us on Monday, November 13 from 12:00 PM to 1:30 PM ET to learn how the arts can foster meaningful connections between young people and older adults. Intergenerational arts programming has been shown to reduce ageist stereotypes, promote empathy and social inclusion, stimulate brain functioning, and reduce isolation. Hear from our presenters about ways to use music, dance, theater, and the visual arts to enhance your programming and build community. Register today.
Table of Contents
Program Highlight
Intergenerational Center for Arts and Wellness (North Carolina)
This November, Senior Services, Inc. in Winston-Salem, NC, will open a new 62,500 sq. ft. Intergenerational Center for Arts and Wellness. The purpose of the Center is to "provide opportunities that serve the socio-emotional and educational needs of older adults and younger people through daily intentional creativity and wellness-focused intergenerational programming." This state-of-the-art center will bring various collaborating organizations under one roof to offer healthcare, intentional intergenerational interaction, and arts-based activities to Forsyth County's older adults and the community. Collaborative members include various arts organizations, such as the Arts Council of Winston-Salem and Forsyth, Sawtooth School for Visual Arts, UNC School for the Arts, Winston-Salem Symphony and 40+ Stage Company as well as Winston State University, Senior Services' adult day care center and Senior Lunch program, a child development center, and organizations that promote health and wellness, including the two regional healthcare systems, Atrium Health and Novant Health. Together, these organizations will offer various opportunities for people of all ages in a safe, welcoming space.
A critical component of the Center is Main Street. In this public programming space, participants of all ages can engage in pre-planned activities coordinated by staff and passive intergenerational activity. Programmatic partners in the Center will have storefront entrances, and there will be space for performances and storytelling, areas for all types of play, rocking chairs and café seating for relaxing, and retail space for purchasing breakfast, lunch, and snacks and viewing art created by older adults, youth, and children.
The following video provides a virtual tour of the center: https://youtu.be/_ChzCY2-UVA?si=CdiZWSk4bdZUt3gv
For more information, contact: Lee Covington, President and CEO of Senior Services at lcovington@seniorservicesinc.org.
Intergenerational Art-Making
Multiple Art Forms
Magic Me (England)
Magic Me, a 34-year-old non-profit organization in London, England brings generations together as equals through the arts to build more integrated and resilient communities. The arts are used to stimulate dialogue and exchange ideas across generations, with projects designed and guided by the following Magic Me Intergenerational Principles:
There is an intergenerational focus. Younger and older people come together as equal partners, with a common purpose.
Relationship building is intentional, not accidental.
Creative and expressive arts activities are central to this work.
Reflection is built into each project.
There is equality of access to arts activities. Activities are designed to take account of the needs, abilities, and confidence levels of culturally diverse groups of older and younger people, with a variety of life experiences.
Activities are co-designed with partners so that projects grow out of current concerns, interests. and issues in a particular community. Youth and older adults work alongside artists to create events, performances, and artwork that foster understanding and connection across ages and cultures. Examples of Magic Me projects include:
Searching for Community: Working with a photographer and theater maker, three groups of younger and older adults produced a series of photographs inspired by the theme of community. Teamed up over the course of 6 weeks, participants were tasked with collectively decorating a chair representing what was missing from their community.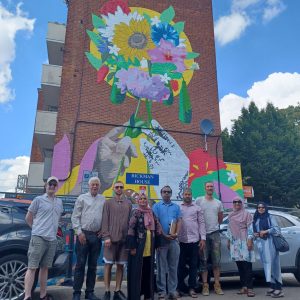 Bancroft Estate, a partnership with Bancroft Tenant Management Co-Operative, connected residents of all ages to create a community mural. Through creative consultations, residents of all ages came together to explore, share, and develop their ideas. The final mural design grew out of the following themes: celebrating diversity, the natural world, and creating a positive impact.
Outside In: Working with a storyteller and a visual artist, children from a primary school and older residents exchanged stories and shared experiences of home. They looked at what it means to be 'at home' in the place you live, both indoors and out. Together, they explored how to develop storyboards, create comic strips, and write poetry. Their artworks and poetry were brought to life in a comic book poster.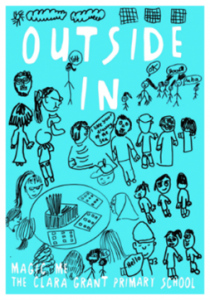 For Magic Me, intergenerational practice is not only about people of different generations being in the same place, at the same time; it is about how specific arts practices can invite and support an equity of participation for all, regardless of age, experience, physical skill, and dexterity. Projects share a commitment to the building of relationships between people in the group, exploring specific themes, developing skills, and sharing work.
Arts and Ages Guide: https://magicme.co.uk/resource/arts-ages-a-guide-to-intergenerational-work/
Storytelling Project Video: https://magicme.co.uk/resource/stepney-stories-a-film-about-the-project/
For more information, email: Susan Langford, Director at susanlangford@magicme.co.uk
SilverKite (Washingon & National)
SilverKite Community Arts ®, LLC, located in Seattle, WA, uses the arts to promote creative engagement in all stages of life, bridge generations, and work towards eliminating the effects of loneliness. SilverKite partners with schools, senior living communities, libraries, community centers, parks, and other organizations to design and facilitate various intergenerational arts experiences. Twenty teaching artists with expertise in visual arts, dance/movement, theater, and storytelling are involved in facilitating both online and in-person programs.
Examples include:
Intergenerational Theater Company: SilverKite hires actors who are diverse in terms of age, race, gender, and experience to create original theater pieces based on their personal stories. Performances are offered to schools, community centers, and retirement communities in the Puget Sound area of Washington State. The performances are transformative and start conversations in the audience.
Journeys: This multi-dimensional art program brings youth and older adults together to explore different art mediums including storytelling, sketching, movement, writing, and improvisational theater. Participants explore the "journey" theme as a vehicle for building meaningful intergenerational connections. A Journeys Toolkit can be found at www.linkagesconnects.org/journeys-experiential-art-program
Arts in the Park: Free summer workshops (e.g. dance, haiku, storytelling) are held in Seattle parks for participants of all ages.
In addition to programs, SilverKite offers consulting services and professional development workshops. It also hosts a monthly Podcast called Kite Tales that explores the world of cross-generational connections and how the arts can play a role in creating and developing these connections. Click the following link: https://www.iheart.com/podcast/269-silverkite-tales-inspiring-74818122/
For more information, contact: info@silverkite.us.
Visual Arts
The Centenarian Portrait Project (Australia)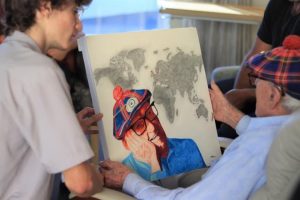 The Centenarian Portrait Project by Teenagers is a five-year intergenerational project that connected 465 hundred-year-olds with 465 teenage artists across Australia. Coordinated by Embraced, Inc., the project was designed to combat ageism, reduce loneliness, and foster understanding across ages. Pairs of teen artists and older adults developed meaningful relationships through multiple in-person visits, video calls, letter writing, and sharing family photos. The teenage artists then created portraits that were given to their older partners. The project culminated in a national Finale in Canberra May-July 2023 that included 100 portraits of centenarians. The online exhibit can be viewed at https://www.embraced.com.au/100-canberra-virtual-exhibition.
This program demonstrates the value of using portraiture to launch conversations, encourage story exchange, and connect people of different ages and backgrounds. It allowed teenage artists to understand the unique perspectives of centenarians. For centenarians, it was a chance to share history and develop new relationships.
Video: https://www.youtube.com/watch?v=GaEaLoiU0Xo
Article: https://www.abc.net.au/news/2023-02-25/centenarian-portrait-project-teenagers/102009822
For more information, contact: info@embraced.com.au
Opening Minds through Art (Ohio & National)
Opening Minds through Art (OMA) is an award-winning, evidence-based, intergenerational art-making program for people living with dementia. The program aims to build bridges across age and cognitive barriers through art. Created in 2007 at Miami University's Scripps Gerontology Center, the program pairs people living with dementia (artists) with volunteers (students, families, caregivers). Volunteers are trained to rely on imagination instead of memory and focus on remaining strengths instead of lost skills. The volunteer training covers an overview of dementia, OMA philosophy and methodology, and effective communication and creative facilitation skills.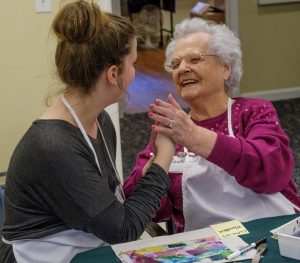 OMA enables people living with dementia to assume new roles as artists and teachers and leave a legacy of beautiful artwork. OMA has been widely replicated. Published studies have documented OMA's positive impact on both sides. People living with dementia during OMA show more expressions of pleasure, greater engagement, and better overall well-being. Students who participated in OMA showed increased positive attitudes toward people living with dementia, increased comfort levels interacting with people living with dementia, and increased affection, enthusiasm, and a sense of kinship toward people living with dementia. OMA offers online facilitator training that prepares artists, aging and healthcare professionals, activity directors, and educators to implement the program in their communities.
ScrippsAVID (AVID stands for Arts-based, Virtual, Intergenerational, and Dementia-friendly) is a virtual off-shoot of OMA. ScrippsAVID connects older and younger adults to share art, music, poetry, and stories via video chat. Although designed to meet the accessibility needs of people living with dementia, ScrippsAVID connects ALL people across generations to have fun, be creative, and build intergenerational friendships. It is free for anyone to use.
Video: https://youtu.be/BWBXLc8eMPQ?si=w2uPoK3PDkrjxmAp
Creative Caregiving Guide: https://scrippsoma.org/creative-caregiving-guide/
For additional information about OMA, contact: Meghan Young at ScrippsOMA@MiamiOH.edu
For additional information about ScrippsAVID, contact: Krysta Peterson at ScrippsAVID@MiamiOH.edu
University of Rhode Island Preschool Project (Rhode Island)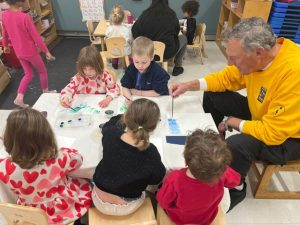 Over the past two years preschoolers at the University of Rhode Island Child Development Centers,  older adults from the Osher Lifelong Learning Institute (OLLI) and the broader community, and undergraduate students worked together to create innovative art projects. These included watercolor paintings, rolling paintings done with marbles, photography presentations, and weaving projects. A 'Special Place' photography exhibit involved children and older adults submitting photos of places special to them. Through follow-up discussions, children and older adults could see they had much in common.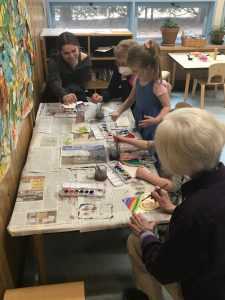 All activities were aligned with curriculum goals and emphasized the importance of having meaningful connections across generations. Early education teachers were involved in planning the art projects, and art supplies were given to all participants. The art-making was process-oriented to foster inclusivity.
The program was marketed to older adults as an opportunity to learn about early childhood education, engage in a creative experience, and contribute to the lives of young children. A survey was conducted to assess the skills, talents, and interests of older adults. In year 1, the program was virtual. In year 2, 17 older adults engaged with OLLI. In addition, several grandparents and older adult community helpers came into the classrooms. Plans to continue the program in the spring semester are underway.
Article: https://web.uri.edu/ahc/2022/05/16/intergenerational-art-connects-young-students-with-older-adults/
For more information, contact: Jessica MacLeod at jldavis@uri.edu
Music
Heart of Los Angeles' Eisner Intergenerational Music Programs (California)
The Heart of Los Angeles' (HOLA) Eisner Intergenerational Music Programs include three components – the Intergenerational Orchestra, Big Band, and Choir. Every week, singers, and musicians of all ages across intermediate and advanced skill levels come together to share the joy of music-making. Performers benefit from interactions with each other while progressing toward a common goal of artistic excellence across a diverse musical repertoire. Heart of LA Intergenerational music performances are designed to share the joy of music-making with performers and audience members through free community concerts at landmark venues.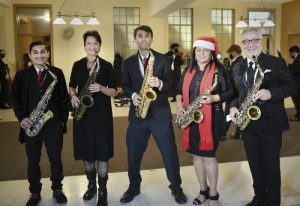 Originally planned for a Spring 2020 launch, the Heart of Los Angeles' Eisner Intergenerational Orchestra held its first rehearsal in July 2021 and its first public performance in December 2021. Check out the mini-documentary that tells the story of its creation, its musicians, and its inaugural concert. Produced by Leandervention in partnership with Heart of Los Angeles and The Eisner Foundation at https://youtu.be/F6XvenJkydo?si=vj2cg3Zm-hWa8VnH
Article: https://www.latimes.com/california/story/2023-06-10/column-this-l-a-orchestra-with-members-from-14-to-76-is-out-to-make-beautiful-music-and-prove-a-point
For additional information, visit: www.heartofla.org.
Intergenerational Music Making (England)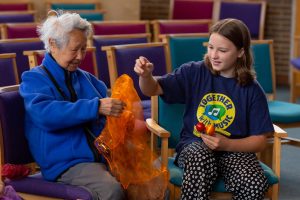 Intergenerational Music Making (IMM) is a not-for-profit organization in the United Kingdom that uses music to connect people of all ages. IMM works across care homes, retirement communities, nurseries, schools, hospitals, and community spaces to tackle isolation, reduce loneliness, and improve mental health and wellbeing. Offering both music-based programs and interactive practitioner training, IMM celebrates the power of music to bring people together and use their voices to share stories.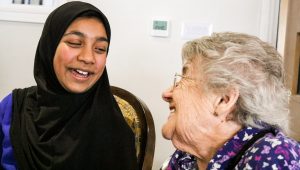 Examples of intergenerational programs include:
Together with Music, a partnership between IMM and Care England that builds connections between care homes, residents, older people, and their local schools and youth groups. Workshops are designed to use shared musical experiences to support individuals and groups in taking steps to re-establish community connections. IMM has delivered Together with Music workshops in seven locations across the UK and in 2022 completed its Together with Music 4 Nations Songwriting Tour. Each project is unique with regard to the music-making they co-produce (e.g. pre-composed and improvised music-making, interactive musical and sensory activities, songwriting, choral works, musical performances, and listening to recorded music.) The sessions end with a period of talking and reflecting.
IMM Community Hubs, held in various settings across the UK including community centers, libraries, and church halls. They aim to connect communities to reduce loneliness and isolation and generate lasting partnerships between community groups.
Overview of IMM and Together with Music: https://www.youtube.com/watch?v=MV4bHCVknGc
Songwriting: https://www.youtube.com/watch?v=f8KwKntXeCs
2022 Report: https://www.imm-music.com/_files/ugd/763913_1abd36d1659940d0a9deae9bd2a0d336.pdf
IMM Toolkit: https://www.imm-music.com/_files/ugd/763913_9f65286bd3644041aebed7ed827c7f7d.pdf
For more information, contact: Charlotte Miller at charlotte@imm-music.com
Music & Memory (National)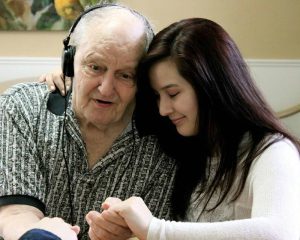 Music & Memory is a non-profit organization that helps individuals with a wide range of cognitive and physical conditions to engage with the world, ease pain, and reclaim their humanity through personalized music. Personalized music can activate cognition, boost spirits, and improve the quality of life and care. Music & Memory's certification program trains organizations on how to set up personalized music playlists for those in their care. These music playlists – containing the beloved songs from a person's formative years  (15-25 years) – tap deep memories long attached to the brain and bring listeners back to life, enabling them to feel like themselves again, converse, socialize, and stay present. Playlists usually contain 20-30 songs and are offered for 30 minutes at a time. Over 5800 organizations in the United States have been certified to run this program. Many use young volunteers to create the playlists.
Students who work with certified organizations can also receive free training on the value of music in caring for people with cognitive disabilities.
A Guide to Creating Personalized Playlists:  https://musicandmemory.org/wp-content/uploads/2021/08/Guide-to-Creating-Personalized-Playlists.pdf
Watch this moving video that demonstrates the power of music: www.youtube.com/watch?v=GaEaLoiU0Xo
For additional information, contact:  info@musicandmemory.org
Mundi Music (Utah)
The Mundi Project, located in Salt Lake City, Utah, provides access to music through its mission to break down socioeconomic and generational barriers. In partnership with Neighborhood House, the Mundi Project brings intergenerational music-making experiences to preschoolers and older adults. It encourages youth and elders to make music together while fostering meaningful connections and social empathy.  Participants report improved psychosocial well-being, increased self-esteem, reduction of ageism stigmas, and decreased social isolation through their participation in intergenerational programs.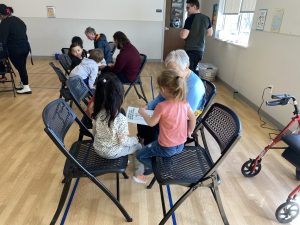 During its 10-week singing and songwriting program, children and older adults learn new skills, share stories, and make music together. The program culminates with an intergenerational music showcase where the children and older adults sing the songs they wrote together.
Check out this playlist of videos from Mundi's 2023 sessions: https://www.youtube.com/playlist?list=PLI0dp3UTRSgPgvBJxTw2dSXVqB9yJCk5n
For more information, contact: Cody Goetz, Executive Director at cgoetz@mundiproject.org
Theater
Mind the Gap (New York)
Mind the Gap is a free intergenerational theatre program offered by the New York Theatre Workshop that connects young people (aged 14-19) and older adults (aged 60+). Over 12 sessions or a weeklong intensive, participants learn about each other's lives and write or devise short plays based on the material they gather. Mind the Gap's primary goal is to use theatre as a creative tool to increase empathy and communication between generations. Participants broaden their perspectives and gain a deeper understanding of the experiences of other generations.
There are two versions of Mind the Gap:
Playwriting workshop: Youth and elders work in pairs to interview each other and write plays inspired by their partner's personal stories. Participants engage in listening and community-building exercises and explore various playwriting techniques. The workshop culminates in a presentation where professional actors read participants' short plays aloud. Two workshops are held in the summer and winter each year in NYC.
Performance workshop: In an intensive weeklong workshop, participants interview each other and collectively create a performance piece inspired by each other's life stories. Workshops have been conducted with partners in London, Chile, North Carolina, New Jersey, and New York.
Video: https://www.youtube.com/watch?v=cBU3s23IU-8
For additional information, contact: Alexander Santiago-Jirau at AlexanderS@nytw.org
Limelight (Michigan & New York)
Limelight is a theatre consulting company that shapes and uses theatre as a story-telling, community-building, and/or problem-solving tool.  Limelight's work addresses real-world issues and is centered on the lifting up of an intentional audience; the practice of presence, and the power of presentation.  Limelight's intergenerational programs include:
HomeBound Podcast: A Dialogue for The Ages: HomeBound, A Dialogue For the Ages (a podcast), occurred over two seasons and is available on all podcast platforms. Its first season used the medium to bring generations together via audio about being socially isolated, living in memory, activism, and loss. The second season built upon established relationships cultivated through the ReGen project, and thus, the season focused on creating a space for reciprocal conversations on themes such as love and home. Overall, Homebound brought to the forefront the commonalities between generations despite age differences. To hear the podcast, click here: https://homebound.buzzsprout.com/. To assist multiple generations on how to listen to any podcast go here: https://www.limelightlive.org/podcasthelp
REGEN Storytelling Project: The ReGen storytelling workshop project uses improvisation and storytelling to foster community, collaboration, and interaction between older adults and younger adults (e.g. high school and college age).  Limelight artists have conducted virtual and in-person workshops over 4-6 weeks with 5 cohorts, each consisting of 5/6 older adults and 5/6 young people. Each workshop begins with improvisational shared storytelling and ends with a story product shaped by each participant in the workshop. The ReGen project connects young and old in specific communities (e.g.LGBTQ+), neighborhoods, and cities.  A guide on how to launch a virtual intergenerational storytelling workshop that is 'neighborhood' centered will be available by December 2023 via Generations United and Limelight.
Solo Acts: A Theatrical Compilation on Solo Aging: The Solo Acts project, through the mediums of storytelling and theatre, was designed to increase the visibility of solo agers (individuals aging alone) so communities, neighborhoods, and decision-makers (e.g. policymakers, philanthropy) can recognize their contributions and activate solutions to support and improve their quality of life. Solo Acts fosters awareness of younger generations about aging alone and is affirmational to older generations. Solo Acts was intergenerational by design with younger people interviewing older people, however, it was the organic coming together of an intergenerational creative team (5 people ages 26 to 74) that was the most exceptional aspect of the Solo Acts project. To learn more about Solo Acts https://www.limelightlive.org/solo-acts. To view the Solo Acts monograph go here: https://online.fliphtml5.com/boasm/jmdh/#p=1
For more information, contact: Info@limelightlive.org
Museum of Contemporary Art (Arizona)
Tucson's Museum of Contemporary Art (MOCA) has developed two intergenerational programs designed to bridge the gap between youth (ages 13+) between older adults (ages 55+) in the LGBTQ+ community. Both programs help combat chronic loneliness that affects many LGBTQIA+ members. Older adults and youth are treated as equals in the program.       
Stay Gold, offered in the Fall and Spring, is intended to bring participants from different generations together in a safe, collaborative environment. A new Teaching Artist facilitates the program each semester, allowing participants to experience a variety of artistic mediums. In the latest session taught by Tijuana-based artist Mariel Miranda, participants used instant cameras to learn basic photography skills and explored the barrios surrounding MOCA.  Plans are underway to exhibit the group's photography at a public venue. The next mini-session will consist of 3 consecutive days with Brooklyn-based artist Keioui Keijuan Thomas. Participants of all ages will make a series of protest signs, affirmations, wishes and dreams, and stickers in the vain of "post no bills" flyers. During this workshop, participants will look at the history of protest signs in art and activism with demos and material studies to make a constellation of motifs. The final pieces will be included in her exhibition at MOCA. Learn more: https://moca-tucson.org/class/stay-gold-fall-2023/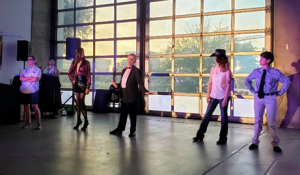 School of Drag is an intergenerational gender performance program. Founded in 2017, the program was started specifically for youth. When elders from Stay Gold saw how much fun the youth had, MOCA staff decided to make the program intergenerational. The program is taught by instructors from Fluxx Productions every Spring for 12 weeks. Participants explore the history and social construction of gender through performance, develop their own drag characters, invent a name, and create their costumes. A drag performance at the museum caps each semester. Learn more: https://www.lifetimearts.org/blog/2019/05/29/innovative-school-of-drag-event-mixes-generations-and-gender-performance/
Article: https://thisistucson.com/tucsonlife/these-two-free-intergenerational-lgbtq-art-programs-return-this-month/article_7601ef4e-a8e9-11ed-8be3-13f494e9f2f6.html
For more information, contact: Education Manager Harrison Orr at harrison@moca-tucson.org 
Storytelling & Creative Writing
Unboxed (Colorado)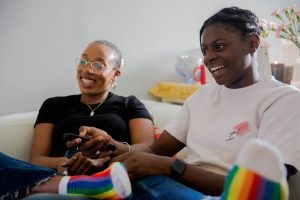 Unboxed is an intergenerational digital storytelling program conducted in 2022 and 2023 that brought together LGBTQIA+ youth aged 13+ and older adults to explore and share transformative personal stories of identity. Sponsored by the Denver Public Library in collaboration with StoryCenter and LinkAGES, this program engaged participants in a collaborative creative process using images, music, and voice narration to make their stories into short videos. Each workshop was intimate, engaging no more than 10 participants.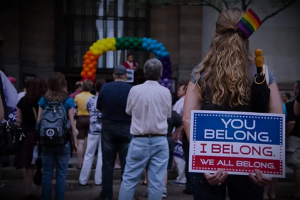 Facilitated by StoryCenter staff identifying as LGBTQ+, participants wrote, created, and collectively edited mixed-media digital stories about their lived experiences while exploring movement, self-care, and opportunities to connect. Clear guidelines on how to interact during the workshops were created and trust was built over time. Participants, facilitators, and supporting staff gathered for an emotional final screening of all the stories at the end of each digital storytelling program. You can watch some of the stories on YouTube: https://www.youtube.com/playlist?list=PL2zMrq22-Y2vWiHTH2Ohos2IAArOKdnGC
The Unboxed Storytelling program provided a unique opportunity for diverse age groups in the LGBTQ+ community to share their vulnerabilities and strengths and build meaningful relationships.
Article: https://medium.com/@rachel_23181/unboxed-a-space-for-belonging-f9d8c96bc5b9
Toolkit: https://www.linkagesconnects.org/unboxed-lgbtqia-intergenerational-program
For more information, contact: Sydney Crain, Library Programming Associate, at scrain@denverlibrary.org.
Koreatown Storytelling Project (California)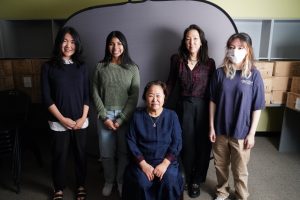 The Koreatown Storytelling Program is an intergenerational oral history and media project that connects high school journalists with community elders in Los Angeles's Koreatown neighborhood. The diverse, multilingual program aims to teach both youth and elders storytelling techniques to investigate cultural practices and examine the inequities faced by their neighborhood and community. KSP is a program of the Koreatown Youth and Community Center (KYCC), a nonprofit social services provider that has served Koreatown's limited-income majority Asian and LatinX* community since 1975.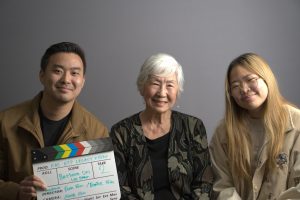 The curriculum includes in-depth workshops on oral history, journalism and photojournalism, community history, interview skills, technology how-tos, and dialogue around cultural traditions, immigration, and civil rights. Students interview elders in the elders' primary language (Korean, English, Spanish, and Tagalog), with each cohort centering their conversations around a theme or topic relevant to their lives and their shared community. Prior to the interviews, students attend a workshop to ensure that they are comfortable and respectful in their interactions with the elders and are mindful of different cultural norms in communication. Elders undergo a screening process to ensure that they understand the expectations and scope of their participation
Though the Storytelling Project was born from a desire to uplift the voices of a specific community, KSP knows that their method of intentional intergenerational journalism can enrich neighborhoods and populations far beyond Koreatown's borders. KSP staff is in the process of developing a curriculum geared towards guiding others in establishing and scaling intergenerational storytelling programs in diverse, multilingual communities.
Check out Generations United profile of the Koreatown Storytelling Project. 
For more information, contact: Katherine Yungmee Kim, Senior Editor, KYCC: kkim@kyccla.org
School One (Rhode Island)
School One is a progressive, private high school in Providence, Rhode Island where students from many backgrounds come together in a supportive community.  Intentional intergenerational programming is a key component of the arts at School One. Older adults and students work together as co-creators and co-learners. Together with teachers, they plan and participate in a variety of art forms that honor the voices and contributions of both older and younger students, Through the arts,  youth and elders learn about each other's life experiences, explore critical current issues, and build emotional connections.
Since launching the program in 2016, School One has created various opportunities for storytelling, theatrical performances, artmaking, and discussion. These include the creation of a radio play, ceramics classes, bookmaking, outdoor landscape painting, and book discussions. Field trips to local libraries and art schools were also planned. This year, ten older adults and ten students are engaged in a weekly, two-hour creative writing class. The class runs for three semesters. The first 10 weeks is an introduction to creative writing.  In the next 10-week session, participants will create a podcast. The last session will focus on Recipes for Life, a project capturing personal stories around food and cooking. It will culminate in a large meal and a storytelling performance.
Case Study: https://creativeagingresource.org/resource/school-one/
Video: https://vimeo.com/378889009
For more information, contact: Diana Champa at dianac@school-one.org.
Dance
Kairos Alive! (Minnesota)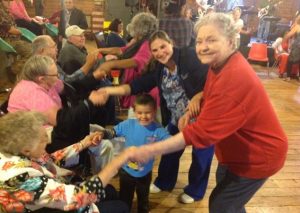 Kairos Alive! uses the power of participatory dance, music, and story to make connections, stir the imagination, and create resilience in intergenerational and intercultural communities. Kairos Alive! Choreography of Care™ programs transform lives and raise awareness of the importance of creative involvement across the lifespan for verifiable health benefits. They include the Intergenerational Dance Hall™ public participation events, Dancing Heart™ weekly programming, and Community Arts and Wellbeing™ Residencies. Their live intergenerational  Kairos Clubhouse™ for people of all ages and abilities streams weekly on Zoom.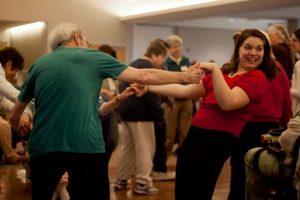 The Intergenerational Dance Hall™ is designed for all ages and abilities (ages 5-101), with elders at the center. These intergenerational, intercultural events feature live music and participatory dance, story, and theatre. They are intended to promote arts participation, health education, and personal and community well-being. Take a look at Dance hall videos: https://kairosalive.org/videos/
For more information, contact: maria@kairosalive.org
Dance Exchange (Maryland)
Dance Exchange, founded in 1976, is a non-profit dance organization based in Takoma Park, Maryland. Dance Exchange is committed to dancemaking and creative practices that engage individuals and communities of all ages and backgrounds to cultivate a deeper understanding of themselves and the world. Collaborating across generations, disciplines, and communities, it uses dancemaking as a means for dialogue, a source of critical reflection, and a creative engine for thought and action.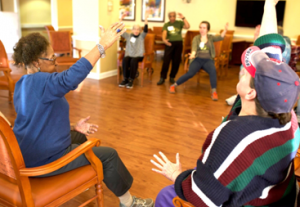 Dance Exchange offers various programs and training opportunities, including;
Dance On: Online and in-person classes led by Dance Exchange artists that celebrate aging with dance, creativity, and connection. The Dance On Organizing with Artists for Change Cohort is a 9-month creative aging workforce development program for artists in and beyond Takoma Park. The Cohort supports artists working with or interested in working with older adults by providing opportunities to train, build relationships with leaders in the field, and teach with and get feedback from Dance Exchange artists and Cohort peers.
Takoma Park MOVES: A weekly in-person class that engages a mix of families, professionals, and community members of all ages, backgrounds, and abilities in dance-making.
Co|Lab: A community choreography laboratory that invites local artists and community members of all backgrounds, ages 18+, to collaborate alongside Dance Exchange artists. Participants create a dance together that draws on our unique stories, bodies, and movement experiences, culminating in a performance at Dance Exchange. The focus of this year's CO/Leb is climate change.
OAC Institutes: Annual summer and winter institutes explore intergenerational collaboration through Dance Exchange's creative tools and practices and celebrate the role that dance can play in supporting movers of all ages in cultivating lifelong connection, creativity, and meaning.
DX Toolkit: http://www.d-lab.org/toolbox/tools-and-tool-chooser
Video: https://www.youtube.com/watch?v=n6ULuBSG894
For more information, contact: Cassie Meador, Executive Artistic Director: meadorc@danceexchange.org
Best Practices
Best Practices in Intergenerational Arts Education Program Design from Lifetime Arts
Resources
Organizations
Toolkits
Research
Adams, M., Burke, G., Browne, N., Kent, K., Colemane, K., Alfrey, L., Lalor, A. and Hill, K. (2023), Conceptualising Intergenerational Lived Experience: Integrating Art–Moving–Well-Being across Disciplines, Communities and Cultures. Int J Art Des Educ, 42: 216-229. https://doi.org/10.1111/jade.12464
Adams, L., (2020), The Benefits of Intergenerational Arts-Based Experiences for Older Adults: A Review of
the Literature. Expressive Therapies Capstone Theses. 359.
https://digitalcommons.lesley.edu/expressive_theses/359 
Schull, D.D. (Mar. 24, 2022). Innovative, Modern, and Responsive Intergenerational Programming Enhances Creative Aging Strategies. Creative Aging Resource Journal from Lifetime Arts. https://creativeagingresource.org/resource/innovative-modern-and-responsive-intergenerational-programming-enhances-creative-aging-strategies/
The Shared Site Learning Network and this newsletter are made possible with support from The Eisner Foundation.