Grandfamilies
Generations United's National Center on Grandfamilies works to enact policies and promote programs to help grandfamilies address challenges.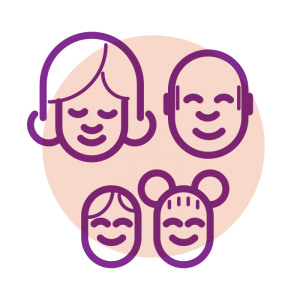 Our work is informed by a national network of grandfamily caregivers. For information on existing state laws and policies affecting grandfamilies visit Grandfamilies.org.
Grandfamilies or kinship families are families in which children reside with and are being raised by grandparents, other extended family members, and adults with whom they have a close family-like relationship such as godparents and close family friends. About 7.8 million children across the country live in households headed by grandparents or other relatives. About 2.5 million grandparents report they are responsible for their grandchildren's needs. In about a third of these homes neither of the children's parents are in the home.
Despite facing many barriers, research shows that the children in grandfamilies thrive. Caregivers also experience benefits like an increased sense of purpose in life.
Keep updated on grandfamilies news by signing up for our bi-weekly e-resource for grandfamily advocates and their allies, The Grandfamilies Alert!
Grandfamilies Policy Information