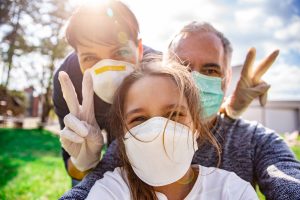 Watch the recording of the event.
Generations United and The Eisner Foundation hosted a one-hour virtual briefing co-sponsored by the office of U.S. Senator Bob Casey on Tuesday, October 20, 2020 to share information about the value of intergenerational shared sites in serving young and old throughout the COVID-19 pandemic and beyond.
Recognized in the Older Americans Act, intergenerational shared sites – or settings where children, youth, and older adults participate in services and/or programs concurrently in the same space – have shown to increase wellbeing of participants of all ages while maximizing organizational and community resources. The program will include an overview of what we're learning from shared sites during the COVID-19 pandemic and speakers from shared sites that have adapted and/or served during the pandemic.
Speakers:
U.S. Senator Bob Casey, Pennsylvania
Lynette M. Fraga, CEO, Child Care Aware® of America and Member of Generations United Board of Directors
Trent Stamp, CEO, The Eisner Foundation
Samantha Koehler, Senior Policy Aide, U.S. Senate Special Committee On Aging
Donna M. Butts, Executive Director, Generations United
Colleen Farrell, Public Relations Manager, Providence Mount St. Vincent, Seattle, WA
Elsa and Scott Detweiler, Family Members, ONEgeneration, Van Nuys, CA
Suzanne Lair, Site Principal, Jenks West Elementary, Jenks, OK
Watch the recording of the event.
Watch Senator Casey's remarks.
Download the slides from the virtual event.
Check out the Q&A, Chat, and other resources from the event.
Download our new Intergenerational Shared Sites Fact Sheet.
Download our new chart Federal Funding Opportunities for Intergenerational Shared Sites.
Download our fact sheet on Intergenerational Opportunities in the Older Americans Act 2020 Reauthorization.
Check out all of our Intergenerational Shared Site Resources.