Best Intergenerational Communities Awards
The Generations United/MetLife Foundation Best Intergenerational Communities Awards program is the United States' only recognition program exclusively focused on communities that are embracing intergenerational solutions to serve, empower, and engage residents of all ages.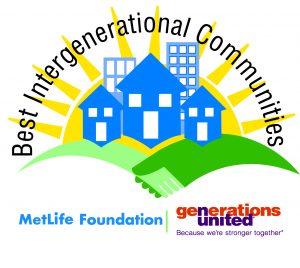 Established in 2012, the awards program has identified 27 extraordinary communities, including 19 winners and 8 national finalists. These are vibrant, healthy intergenerational communities that are good places to grow up and grow old.
Winning communities demonstrate that they are harnessing the energy and increasing the productivity that result when people of all ages come together. Recognizing changing demographics, these communities are effectively engaging, serving, and honoring all generations as they advance policies and practices that stimulate cooperation and collaboration.
2015 Best Intergenerational Communities
2013 Best Intergenerational Communities
2012 Best Intergenerational Communities