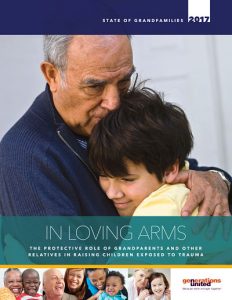 Download here: Full Report 
Download the Infographic
Download and share the Report Flyer
Grandparents and other relatives who step in to care for children, play an important role in mitigating trauma, which children in the child welfare system experience at starkly higher rates than the general population.
More than half of the children in the child welfare system have endured four or more adverse childhood experiences (ACEs), leaving them 12 times more likely to have negative health outcomes – substance use disorders, mental health problems, and engaging in aggressive or risky behaviors – than the general child population.
Compared to those in care with non-relatives, children in foster care with relatives have more stable and safe childhoods and a greater likelihood of having a permanent home. They have better mental and behavioral health, and are more likely to report always feeling loved.
Among the report's recommendations:
Reform federal child welfare financing to provide more trauma-informed support to prevent children from entering or re-entering foster care
Increase availability of and access to trauma training and supports designed for grandfamilies
Address barriers to licensing relatives as foster parents
Ensure grandfamilies not licensed as foster parents can access financial assistance to meet children's needs