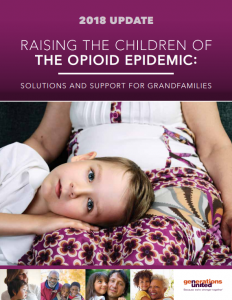 Download the Full Report
Children who are removed from their parents' care by the child welfare system because of substance use and put in foster care are now more likely to be placed with relatives than non-relatives according to a newly updated report from Generations United, Raising the Children of the Opioid Epidemic: Solutions and Support for Grandfamilies.

The report highlights the sharp increase in drug overdose death rates among adults of childbearing age with increases of 29 percent among 25- to 34-year-olds and 24 percent among 35- to 44-year-olds – leaving grandparents and other kin to raise children.
Overall foster care systems are relying more on grandparents and other relatives to care for children when their parents cannot. The percentage of children in foster care with relatives has increased from 24 percent in 2008 to 32 percent in 2016.
Research shows that children who cannot remain with their parents do best with relatives. Yet, grandfamilies are often not given access to the same supports and services that traditional unrelated foster families receive.   Recently enacted legislation, like the Supporting Grandfamilies Raising Grandchildren Act and the Family First Prevention Services Act, show promise to help provide needed supports and services to these families.
The report includes recommendations such as:
Encouraging states to offer a continuum of tailored services and supports for children, parents, and caregivers in grandfamilies available through the Family First Prevention Services Act.
Ensuring children in foster care are placed with families, prioritizing placement with relatives and giving them support to care for children with high-level needs.
Promoting services to children and caregivers in grandfamilies through the network of organizations serving older Americans by urging all states to maximize use of the National Family Caregiver Support Program.
The original 2016 report is available here.