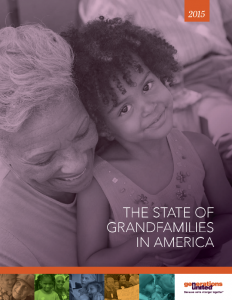 Download the Full Report
The State of Grandfamilies in America: 2015 identifies key state laws and policies specifically designed to address barriers and better support grandparents and other relatives raising children.
According to the report, almost 65 percent of children in grandfamilies, or kinship care, live in states with only half or less of the key laws and policies designed to support them. Yet nationally the numbers of children placed in foster care with relatives increased from 24 percent in 2008 to 28 percent in 2013.
The top 10 states – California, Hawaii, Idaho, Illinois, Louisiana, Montana, New Jersey, Oklahoma, Texas and Washington – met Generations United's criteria for grandfamily-friendly laws and policies.
All states had at least one supportive law or policy for grandfamilies. No state scored 100 percent and had all of the laws and policies recommended. Only three states secured a passing grade of 60 percent and above.
The report offers recommendations to help guide the development of supportive federal and state
policies and services for grandfamilies. They include:
Prioritizing and empowering relatives to make informed decisions
Providing access to preventative services to relatives outside of the formal foster care system
Ensuring adequate supports to keep children with relatives
Promoting tailored services for the unique needs of grandfamilies