Download the full report here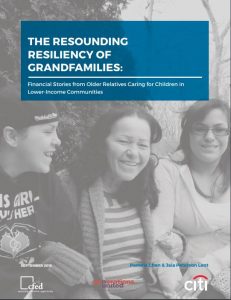 To deepen our understanding of the financial situations facing grandfamilies, particularly those in low- to moderate-income households, Citi Community Development convened Generations United and CFED to interview grandparent caregivers. The purpose of these interviews was to gain an understanding of grandfamilies' individual household finances, including how they earn and spend money, what financial products they use to transact and store money, what challenges they face and what strengths they draw upon. Their stories open a discussion about how organizations that offer social or financial services to grandfamily caregivers can help build financial stability and increase mobility for these multi-generational families.
In this report, we begin with an overview of grandfamilies in lower-income communities and provide background on the interviews we conducted. We then discuss key themes from the financial stories of caregivers that emerged from the interviews. We close by identifying some opportunities to help improve the financial situation of grandfamilies.