Table of contents
Program Highlight
The Life Center: Revitalizing a Rural Community
An exciting new shared site project called the Life Center is underway in the rural town of Logan, Kansas. Like many rural communities, this small town of 500 residents has been in a period of decline. More than half of its residents are below the poverty level. A shrinking public school population, a deteriorating school building and nursing home, and pervasive social isolation for the older residents, have become critical challenges that need to be addressed in order for the town to thrive. Due to the tireless efforts of key stakeholders, including representatives from the existing nursing home, school board, City Council, and the Hansen Foundation, an ambitious project that will enhance the quality of life for older and younger residents is under construction and is scheduled to open in fall 2024.
The $32 million Life Center, funded by the local Dane G. Hansen Foundation, will include:
a new 36-bed nursing home based on a "small home" design that has a centralized home-style kitchen in each 12-room pod;
a new Pre-K-4th grade elementary school with classrooms that open onto a large "Scholastic Alley" area for hands-on learning;
a new gymnasium that is wheelchair accessible to the elder-care residents;
an intergenerational playground with a swing that can accommodate a wheelchair;
a weight room and wellness facility that will be open to the community; and
a multi-purpose room that will double as a community storm shelter.
The Life Center is adjacent to an existing daycare facility and an indoor corridor will connect the new structure to the existing elementary/high school. A myriad of opportunities for high-quality intergenerational programming will be created involvin
g older adults and children/youth ranging from infants to seniors in high school. As a precaution against future pandemics, the nursing home pods can be quarantined and each classroom will have flat-screen technology that will enable virtual interaction if needed.
In the coming months, an effort will be made to help community residents and institutions better understand the value and operation of the Life Center. It is hoped that this innovative model will establish meaningful connections across generations, stimulate interest among young people to enter the teaching and healthcare professions, increase enrollment in the public school and revitalize the entire town of Logan.
For more information, contact Michael Erhart, Owner's Representative for the LIFE Project at mjerhartlifeproject@outlook.com.
What's Happening Around the World: Emerging from the Pandemic
Singapore
Singapore actively promotes a wide range of intergenerational programs as a way to address its fast-growing aging population, the social isolation of elders, the decline in multi-generational families, and the language divide across generations. Although the current number of shared sites is limited, the Singapore government has included the co-location of 13 senior care centers and child care centers, with common spaces for interaction, into its 2023 Action Plan for Successful Aging. The future holds many opportunities for strengthening existing programs and developing new ones.
The following describes two existing shared site programs and their experiences during the pandemic.
St. Joseph's Home
St. Joseph's Home, a government-subsidized nursing home with over 400 beds, was Singapore's first long-term care facility to integrate an infant and child center onsite. From its inception, there was an understanding from the senior management level to the staff running both the elder care and child care services, that intergenerational programming would be embedded into the daily lives of the young and old and not considered an "add-on". With "relationship building" as the desired outcome, staff members design clear plans that benefit both groups through regular engagements. In order to achieve this, staff from both sides have been cross-trained in each other's main domains and have shadowed each other to understand each other's audience better. This has made staff familiar with the profiles and needs of all young and old participants. Additionally, a concerted effort to pair children and elders based on similar language capability and temperament was made for all IGPs.
During the pandemic, online video sessions replaced face-to-face interactions. Well-being and ill-being indicators used by staff suggested that virtual programming did
not result in high well-being during the engagements nor did they achieve the goal of relationship building. Both age groups needed multi-sensory activities to be fully present in the moment, and the online experiences were unable to achieve this. Additionally, all participants quickly became disengaged in their pairings due to intermittent Wi-Fi connectivity. When COVID restrictions were lifted in January 2023, preliminary face-to-face interactions with initial masking recommenced. Reintroductions between young and old were required due to the two-year noncontact period. Photos of the elders were placed at the child care center, and the children's photos were placed in the residents' living quarters. Subsequently, in-person sessions were centered around casual meet-and-greet activities to ease into relationship building once again. The lifting of restrictions also meant that volunteers and community partners could return, enhancing the variety of programs that could be offered under the IGP umbrella and allowing intergenerational activities to be taken outside the nursing home. A recent collaboration with Esplanade, Singapore's national performing arts center, engaged nine pre-schoolers and nine elders with dementia in an eight-week music program culminating in a performance for families at the Esplanade.
https://stjh.org.sg/ For further information, contact: May Wong at maywong@stjh.org.sg
Research article:
I-Ling Yeh, Sebastian Ye Xun Wong, Lydia Safrina Binte Safaruan, Yuan Qi Kang, May S. T. Wong, and Ingrid M. Wilson. "Development and Implementation of an Intergenerational Bonding Program in a Co-Located Model: A Case Study in Singapore." https://www.mdpi.com/2076-0760/11/12/557
The National Trade Union Congress (NTUC) Health Day Centre for Seniors 
The National Trade Union Congress (NTUC) Health Day Centre for Seniors and a co-located preschool My First Skool is another example of a shared site. Both centers are located at Braddell Heights Community Hub, an old bus interchange that was transformed into a community hub that also includes an NTUC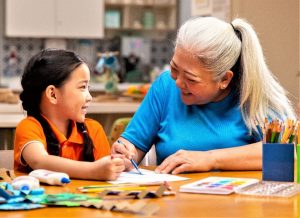 Health Family Medicine Clinic. Adopting a person-centered care approach, staff develop purposeful activities that build on participant interests and strengths. Teachers and staff receive training on engaging persons with dementia and young children in appropriate developmental tasks. Many of the activities are based on cultural celebrations and traditions to allow older adults to transfer their cultural knowledge. An early evaluation of this intergenerational program identified reciprocal learning, co-creation, and opportunities to express generativity as key elements of successful programming. During covid, NTUC Health adapted and planned new programs and initiatives utilizing digital platforms for seniors and children to continue engaging virtually. Currently, NTUC Health, which has multiple senior day care centers, active aging centers, and nursing homes, offers different tiers of intergenerational partnerships at co-located shared sites on a regular basis.
For further information, contact Cheryl Lim at cheryl.lim@ntuchealth.sg.
Thanks to May Wong, Imelda Anthony, Cheryl Lim, and Leng Leng Thang for contributing to this article.
Research article:
Cheryl Ching Ling Lim, Caymania Lay Teng Low, Soo Boon Hia, Leng Leng
Thang & Ai Ling Thian (2019) Generativity: Establishing and Nurturing the Next Generation, Journal
of Intergenerational Relationships, 17:3, 368-379, DOI: 10.1080/15350770.2019.1617603. https://doi.org/10.1080/15350770.2019.1617603
SCOTLAND
The pandemic brought a halt to many intergenerational projects in Scotland, particularly those involving older people in care settings. However through the efforts of Generations Working Together, a center that supports the development and integration of intergenerational work, new efforts are underway to revitalize intergenerational work. In 2020 GWT launched a manifesto for Scotland to become the first intergenerational nation where "different generations are more connected, and everyone can build relationships that help to create a fairer society." Its call to action includes embedding intergenerational approaches in policy-making, creating more intergenerational places and spaces, and increasing knowledge about intergenerational approaches. Although the concept of intergenerational shared sites is relatively new in Scotland, a number of shared sites are in the planning stages, and Methil Care Village recently opened in Fife, Scotland.
Methil Care Village
With an investment from the Fife Council and consultation from Generations Working Together, Methil Care Village promotes intergenerational connections and a sens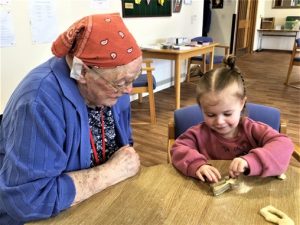 e of belonging. Built around village green which will be open to the entire community, the site includes a new 36-bed residential home, a 39-place nursery for 2-4-year-olds, and 35 extra care and specific needs bungalows for older people. Each property has a large garden area to encourage growing produce and socializing.
Careful planning regarding the use of space and shared decision-making are hallmarks of this project. Issues such as dementia and child-friendly décor and color schemes, kind of furniture (adult and child-size), and accessibility to toilets for children and older adults were considered. Tailored intergenerational training for early years and care home staff was provided by Generations Working Together and efforts have been made to demystify preconceived stereotypes among children and older people. A range of intentional intergenerational interactions is planned for the village, including community gardening, cooking classes, arts and crafts, and social events. It is anticipated that sharing indoor and outdoor communal spaces will also lead to ongoing informal interactions.
For further information, Alexandria.johnston@fife.gov.uk.
AUSTRALIA
Across Australia, numerous examples of intergenerational practice exist, many of which occur in co-located aged care homes and child care centers. Demands placed on the growing number of women in the workforce and a rapidly growing aging population are primary drivers for shared sites. In addition, the popularity of Old People's Home for 4-year-olds, an Australian factual television series preparing for its fourth season, has sparked interest in the possibilities of generations working together. Creating shared sites can be challenging due to separate government regulations for child care and elder care, yet this idea is taking hold. Although many programs created before covid were suspended or moved to virtual interaction, most are re-emerging, and new ones are being developed. The Australian Institute for Intergenerational Practice, created in 2021, is a crucial resource for helping organizations create, implement and evaluate high-quality intergenerational programs. The following two examples demonstrate how the aging and childcare worlds work together to create caring intergenerational environments.
Echoes-Montessori
Echoes Montessori, an early learning and care program in Adelaide, Australia, is partnering with ECH, one of the largest integrated providers of retirement village
accommodation and aging care services in South Australia. Developed by Barbara Langford and her daughter Jessica, this program opened in January 2022. The name and logo represent the belief that the influence and inspiration of elders 'echoes' through the generations and is carried forward into the future. Both SA Montessori and ECH prepare their professionals in a way that promotes meaningful growth and positive outcomes for every unique individual. ECH and Echoes Montessori worked closely with architects to design the learning center which is incorporated "under the same roof" as new Encore apartments. The complex also includes a gym, a wellness center, allied health services, a community hall, a library, and a café. Initially masking, temperature taking, and social
distancing were enforced to protect children and older adults. Most restrictions have now been lifted, and today residents and children come together at various times of day through a variety of shared experiences such as gardening at the urban farm, cooking, story-telling, and reading together at the library,
For further information, visit https://www.samontessori.com.au or contact Barbara Langford at ceo@samontessori.com.au .
View the intergenerational village by clicking:
Video #1 https://vimeo.com/821581120/78ac5c4f90
Video #2 https://vimeo.com/821583891/e57ae4db05
The Herd International Learning Center
The Herd Intergenerational Learning Center in Victoria, Australia opened its doors in January 2023. Developed by sisters and early childhood teachers Anna and
Fiona Glumac, the centre was inspired by their late grandmother who spent the last year of her life in residential care. The name pays homage to elephants' respect for their elderly herd members. The early learning centre is built under the same roof as the Uniting AgeWell Andrew Care aged care facility. Residents of Andrew Kerr Care are encouraged to visit a special viewing space in the child care centre to watch the children play. Across the working week, children from each 'class' or 'room' of the child care centre have daily visits planned with a group of residents. Children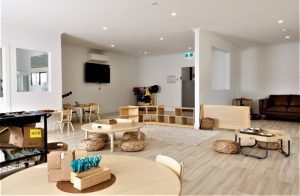 in the Nursery go on friendly visits to residents while riding in a 6-seater pram. Toddlers and Kindergarten children also visit the activity room of the nursing home where they engage in activities such as singing, crafts, and storytelling. These activities are co-designed, with the children's and residents' interests informing the program. In addition, there are many opportunities for spontaneous and natural interactions. Residents are also invited into the centre to volunteer.
For further information, visit https://www.theherdilc.com.au  or email info@theherdilc.com.