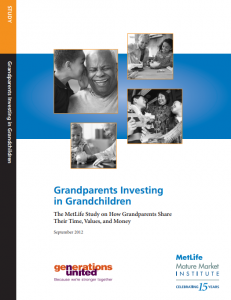 Download the Full Report
Today's grandparents continue to provide care for grandchildren, offer advice and moral support, and provide financial assistance. Because grandparents are an increasingly vital support for American families, the MetLife Mature Market Institute (the Institute) has undertaken this survey of grandparents to gain more knowledge about the most important aspects of their grandparenting experience.
This study builds on the various perspectives gained from previous Institute studies involving grandparents, including:
Grandparents: Generous with Money, Not with Advice (2009)
From Generation to Generation: Grandparents Imparting Lessons, Legacy, and Love, A MetLife Survey of African-American, Asian Indian, and Chinese Grandparents (2010)
The MetLife Report on American Grandparents: New Insights for a New Generation of Grandparents (2011)
This study further examines grandparents' preferences and goals, their connections with their grandchildren, and the levels of care they provide — from long distance grandparents to those who provide regular babysitting and care to the growing number living in multi-generational households or personally raising grandchildren.