Valuing Vaccinations Across the Generations is an awareness campaign launched by Generations United in partnership with The Gerontological Society of America and the American Academy of Pediatrics. This campaign bridges the importance of immunizations within segmented groups into an intergenerational conversation within families and among generations. It is an international effort that promotes vaccinations through a lifespan approach by providing tools and resources to encourage intergenerational conversations.
Beginning in the United States, the campaign expanded to two other countries in late 2016. Generations United worked with the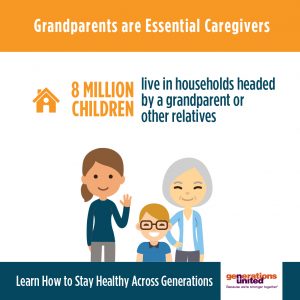 Tokyo Metropolitan Institute on Gerontology in Japan and the University of Granada in Spain .
Click here to download our newest vaccine infographic Staying Healthy Across Generations: Vaccines are Essential for All Ages.
Also check out our vaccine discussion guide, Valuing Vaccinations Across the Generations: Intergenerational Discussion Guide.
Visit the campaign website for more information.