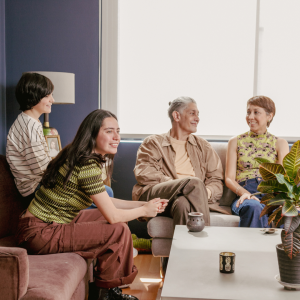 Generations United is excited to announce the formation of a new Intergenerational Housing Learning Network (IHLN), the first meeting was held on September 21 at 3:00 p.m. Eastern.
The purpose of the group is to share knowledge about the various intergenerational housing options and to strategize ways to get intergenerational housing approaches integrated with senior housing, affordable housing, supportive housing, and other relevant efforts to meet America's housing needs.
We are planning for the IHLN to meet quarterly, with the possibility of activity between convenings. We're hoping to engage people who have knowledge of various intergenerational housing approaches to share and who are interested in strategizing with others to make intergenerational housing a more common and accepted part of our way of life.
If you are interested in participating but could not attend this first meeting, please contact Ilonka Walker.
To learn more about intergenerational housing, check out our webinar.