Generations United's Intergenerational Program Certification designations are based on the criteria that underpin the effectiveness of any intergenerational program and are intended to recognize the rich diversity among programs that involve older and younger generations.  '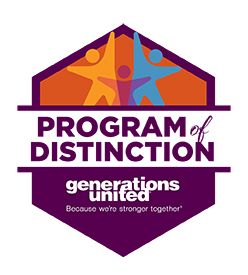 The Program of Distinction designation denotes that the awarded program meets the highest standards of intergenerational effectiveness and provides greater confidence in the program's sustainability and capacity to achieve targeted outcomes. This year, Generations United is thrilled to recognize 11 applicants as Programs of Distinction. These new designees join 23 renewing organizations:
A Little Help for Older Adults, Denver, CO
AVUS Connect Tech Pals, Miami, FL
Front Porch Communities and Services Social Call, Glendale, CA
Grandpas United, City of White Plains Youth Bureau, White Plains, NY
Hearts and Minds Activity Center Intergenerational Program, San Jose, CA
Housing Opportunities & Maintenance for the Elderly (H.O.M.E) Intergenerational Housing, Chicago, IL
LBFE Boston CitySites, Boston, MA
Lori's Hands, Newark, DE
Pear Suite Pear Pals (Virtual Platform)
Seniors in Service of Tampa Bay, Inc. Health Buddies, Tampa Bay, FL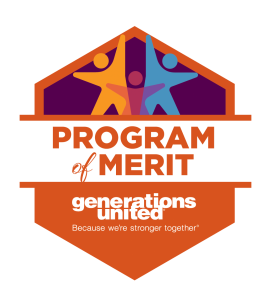 Generations United is also pleased to announce 9 inaugural Programs of Merit. The Program of Merit is a new designation that recognizes programs that meet the minimum standards of intergenerational effectiveness and are actively working towards exemplary status:
Catholic Charities Archdiocese of San Antonio, Inc. Adopt-a-Senior Program, San Antonio, TX
Charles City AmeriCorps Senior Foster Grandparent Program, Charles City, IA
DreamCatchers Foundation, Scottsdale, AZ (Chapters Nationwide)
San Diego Oasis Generations Together Summer Camp, San Diego, CA
Legacy Letters, AgePRIDE at the Goldsen Institute-University of Washington, Seattle, WA
Music and Memory at Kavod Senior Life, Denver, CO
Partners in Rhyme, Cambridge, MA
Tuskegee Youth Readers TIHS Class of 1974 ReadtoME Program, Macon County, AL
Wesley Family Services Foster Grandparent Program, Wilkinsburg, PA
Congratulations to these outstanding programs! Interested in having your program recognized in 2023? Review the pre-application checklist here.