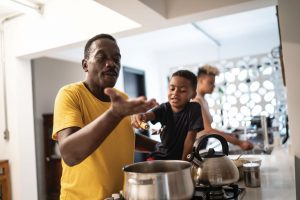 When: Wednesday, November 2, 2022 – 12:30-1:30 pm EDT
Where: National Press Club – Washington, DC and Live Streamed
Generations United invites you to the release of our 2022 State of Grandfamilies Report, Together at the Table: Supporting the Nutrition, Health, and Well-Being of Grandfamilies, on Wednesday, November 2.
Across the U.S., more than 2.5 million children live in grandfamilies, meaning that their grandparents, other relatives, or close family friends are raising them because their parents cannot. Grandfamily caregivers often face financial challenges and frequently struggle to access enough nutritious food for the children and themselves. The 2022 State of Grandfamilies Report features new data on the rates of food insecurity among grandfamilies, collected in partnership with the Food Research & Action Center (FRAC). It also elevates impacted voices to explore the barriers to food access, highlights effective programs, and recommends policy solutions to eliminate food insecurity and hunger.
The report release event will feature highlights from the report, a conversation with members of grandfamilies facilitated by author and journalist Michelle Singletary, and the presentation of Generations United's Grandfamilies Champion Award.
The event will be held in person at the National Press Club in Washington, DC and simultaneously live streamed. You will need to register to view the live stream. In-person seating is limited and lunches will be available on a first come-first served basis.
Speakers include:
Michelle Singletary, Journalist and Author
Kathy Coleman, Generations United GRAND Voice, Louisiana
Eugene Vickerson, Generations United GRAND Voice, Georgia
Chelsi Rhoades,  Public Policy and Advocacy Coordinator, Generations United
Donna Butts, Executive Director, Generations United
Luis Guardia, President, Food Research & Action Center (FRAC)
Download the Report (COMING SOON)