Instructions and Suggested Social Media Messages
See our meme library | See Instructions for Locating Your Members of Congress on Social Media | See Instructions for Emailing or Sending a Message | Go back to our main page
Social Media Messages
Grandparents stepped up to care for grandchildren in the wake of the opioid epidemic. Now they've got another crisis to overcome. They need more #KinshipNavigator Resources #ChildWelfareCOVID
Grandfamilies and older relatives caring for children can't risk visiting stores and exposure to COVID-19. They're struggling to get food and medical supplies; resources would help. Include #KinshipCaregivers in #TANF #ChildWelfareCOVID
Grandfamilies need accurate information from people they trust to figure out how to meet children's need during the COVID-19 Crisis. They need more #KinshipNavigator Resources #ChildWelfareCOVID
With the real possibility of illness looming before them, grandparents and other relative caregivers need emergency plans for children in their care when COVID-19 strikes. They need #KinshipNavigator Resources to help them figure out how to prepare #ChildWelfareCOVID
Grandfamilies need access to the internet and technology for tele-health needs, for children's distance learning, and to connect with others to reduce social isolation. They need #technology connections and #KinshipNavigator Resources #ChildWelfareCOVID
Grandparent and relative caregivers can't isolate from the children who who may expose them to the virus. Support #Grandfamilies and #KinshipCaregivers by increasing #KinshipNavigator Resources.
Many grandfamily caregivers use full or part time jobs to help care for children, relying on retirement to make ends meet. With savings devastated by stock market plunge, they have no other backup plan. Include #KinshipCaregivers in #TANF and #SSBG #ChildWelfareCOVID
(top)
Meme Library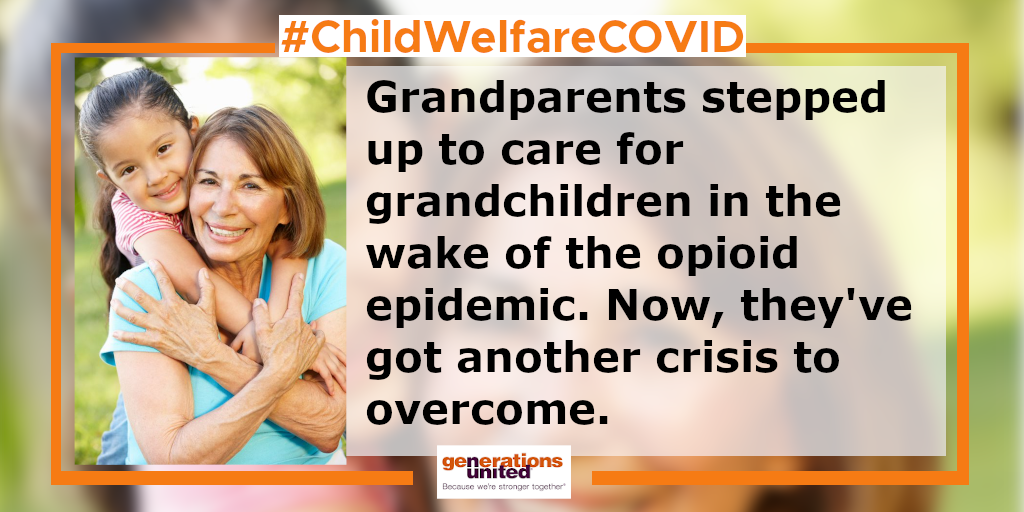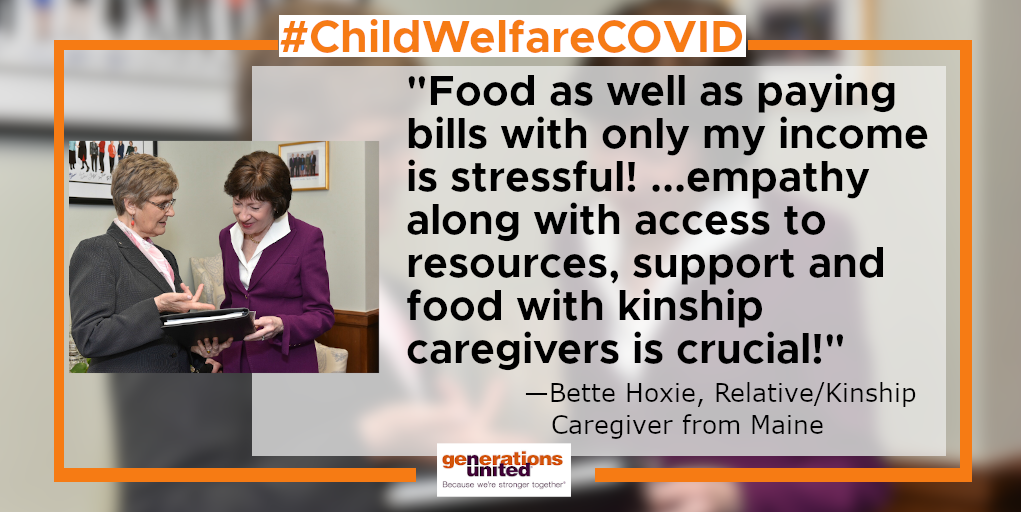 (top)
Locating Your Members of Congress on Social Media
For Twitter, click here to find your Members of Congress. Include their "handle" in a tweet. Here's an example using a fictional Senator Smith's handle, @SenSmith. Replace @SenSmith with your Member of Congress handle.
Grandparents need your help, @SenSmith!  They stepped up to care for grandchildren during the opioid epidemic. Now they've got another crisis to overcome. They need more #KinshipNavigator Resources #ChildWelfareCOVID
---
To search for your Congress Member on Facebook:
Go to Facebook's Townhall page. You may need to enter your address so Facebook can identify your representatives for you.
Click on Federal Representatives bubble or scroll down to Federal Representatives section.
Click on the name of the first representative you want to contact to find their Facebook handle. It will take you to the representatives Facebook page.
Under the Representative's name is an @ with his or her name. That's what you can use to tag them on Facebook. See below for example.
Go back to your Facebook page and create a post as your normally would. Tag your Representative and click "Post".

Grandparents need your help, @RepRaskin!  They stepped up to care for grandchildren during the opioid epidemic. Now they've got another crisis to overcome. They need more #KinshipNavigator Resources #ChildWelfareCOVID. I hope you will support any effort to increase resources to help them!

Add images or links to more information to add extra pizzazz to your post!
(top)
Email or Send a Message
Email or sending a message through a contact form is the best method to reach Members of Congress right now.
REPRESENTATIVE:
Enter your zip code and the website will pull up your Representative. Click on picture of mail icon to send email message. Sample message below.
SENATORS:
Search for your state and the website will pull up your Senator. Most Senate offices have a link to a form where you can submit a message (in lieu of sending an email.)
Enter the information it asks in the form, and your message to the Senator. Click Submit.
SAMPLE EMAIL TO MEMBER OF CONGRESS
Dear Representative or Senator NAME:
The COVID-19 epidemic has hit our grandfamilies particularly hard. [INSERT YOUR REASON or CONNECTION TO THIS ISSUE HERE.  EX. As a 75  year old grandparent caring for my youngest grandson, I do my best, but I don't know if I can keep this up… ] 
Grandparents and other relative caregivers stepped up to care for grandchildren in the wake of the opioid epidemic and helped prevent many children entering foster care. Others have become foster caregivers to help their relatives when they must enter care.  The COVID-19 pandemic is another crisis for these "grandfamilies" to overcome, and they need more support. 
At high risk for illness themselves, grandparent caregivers cannot isolate from the grandchildren in their care. Going to stores is especially risky and they're struggling to get food and supplies. Many have lost part-time jobs which helped them support the children. They often dip into retirement savings, which have also plunged recently, along with the stock market. And, grandparents and other kinship caregivers may not have internet access or the technology devices to help children keep up with online schooling. 
Please support efforts to increases resources to grandparents and other relatives caring for vulnerable children. Specifically, we need:
$20 Million for Kinship Navigator Programs to coordinate with local grandfamily service providers to get supplies, information and support to families.
Provide supplemental funds for TANF to protect vulnerable families from the economic downturn and urge states to increase the TANF child-only grands for children being raised by grandparents or other relatives.
Increased investments in the Child Abuse Prevention and Treatment Block Grant ($1 billion), the MaryLee Allen Promoting Safe and Stable Families Program ($1 billion), the Title IV-E Prevention Programs (increase FMAP rate), and the Court Improvement Programs ($30 million), and Title IV-E Chaffee funds ($500 million), Kinship Navigator Programs ($20 million.) 
Increase the Social Services Block Grant by $4.1 billion to help states fill in gaps to critical services including child protective services, child abuse prevention supports, foster care, domestic violence services, meals on wheels and adult protective services.
(top)