Dulce Medina
Inglewood, California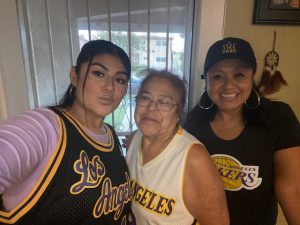 Family comes first for Dulce Medina, 46, who, along with her 22-year-old daughter, Neina, moved in with her parents when her father suddenly became seriously ill. He passed on shortly thereafter, and there was no question that the two younger generations would stay on to care for 70-year-old Elvira, who has diabetes and glaucoma.
"I'm assisting mom with all of the paperwork and dealing with all the mourning," shares Dulce. Elvira also lost her sister the same month her husband died. Dulce says the generations stick together for support. "My daughter has been a steady rock for me, which gives me strength to be a steady rock for my mother."
Dulce, who is a caseworker helping homeless families, found a job near her mother's home. The proximity helps with caregiving; now, she's able to go home for lunch easily to check on her mother. Since it was a new job, she didn't have leave time accumulated, but says her new supervisor has been extremely flexible and supportive. She was able to work from home when needed before her father passed on.
Happy that her daughter is still living with her, Dulce says she and is in no hurry for Neina to move out, as they are very close. She is also glad that her daughter is learning many family and cultural customs. "I'm extremely pleased to see my daughter take part in the traditions," Dulce notes. "My daughter is a better cook than me, so she's learning that process from my mother, just picking up the traditions that I think are very valuable to us."
The family's traditions are helping with grief too. "We come from a Mexican family, and we celebrate death in a beautiful way," Dulce relates. Due to the COVID-19 pandemic, the family holds a "zoom" video rosary once a month with extended family living all across the nation. The only benefit of the pandemic, she says, is that almost everyone is comfortable with video calls, so more family members are able to honor their loved ones together.
The three generations also carry-on newer family traditions, like her father's love of the Los Angeles Lakers basketball team. "We continue to watch our Lakers games together because it makes us feel like my dad is around still," Dulce shares. "That's something that we continue to do."
While Dulce says there are challenges, like only having one bathroom, and keeping her mother safe during the COVID-19 pandemic, overall, their multigenerational household is running successfully. She and her daughter are happy to be there. "It's a cultural thing, I think we're just going to stick together. No matter the situation family always has to come first."
Read the full report and other family stories at Family Matters: Multigenerational Living Is on the Rise and Here to Stay.